Adding income and diversification to challenged portfolios
Alternatives
David Lebovitz
Meera Pandit
When it comes to generating more robust streams of income and better diversification, core real assets like real estate and infrastructure seem to fit the bill.
David Lebovitz
Many investors are hungry for income but are hesitant to take on the required equity risk. At the same time, expected returns for risk assets continue to be pressured lower, yet return targets remain unchanged. As investing in traditional asset classes becomes an increasingly challenging way of generating robust returns and income, alternative asset classes have emerged as a potential solution.

Real estate and infrastructure are effective ways of generating income and diversifying portfolios. Within real estate, industrial properties look set to benefit from the continued growth and adoption of e-commerce, while the success of retail properties will depend on the reopening of the economy, as well as tenant mix. Turning to infrastructure, there is a clear need for an uptick in investment spending, as shown in Exhibit 1. Furthermore, we expect an infrastructure bill will be part of a broader stimulus package next year, but believe it will focus on more traditional assets like roads, rails and other forms of transportation.
Alternative financial assets like private equity and private credit can help address the return challenge faced by many investors. In the world of private equity, financing is far more readily available than was the case in the aftermath of the GFC, suggesting that funds have access to the capital needed to get deals done. Part of this is a function of the continued growth in the private debt markets, as these lenders have emerged as a viable substitute for traditional bank lending. That said, private markets continue to struggle with some of the same issues as the public markets, as high-quality assets look expensive and cyclical assets look cheap.
Exhibit 1: Average annual infrastructure need

USD TRILLIONS, CONSTANT 2017 DOLLARS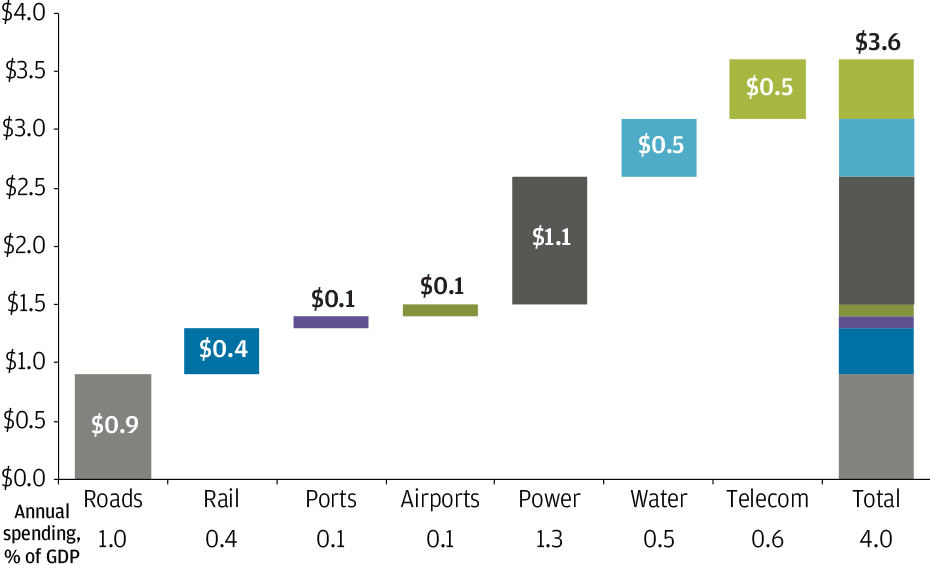 Source: McKinsey Global Institute, J.P. Morgan Asset Management. Data is based on availability as of November 30, 2020.
Two of the biggest challenges when it comes to alternatives have to do with access and liquidity. While these headwinds are beginning to abate, every investor will not have access to the full suite of opportunities described. As such, we recognize the importance of being able to access these themes of diversification, income and return enhancement through a number of channels. On the more liquid side, equity strategies that use option overlays and absolute return fixed income strategies are two ways of effectively managing stock market volatility and interest rate risk, while things like REITs can provide inflation protection and more robust streams of income. At the end of the day, however, any alternatives allocation should be outcome oriented; investors first need to identify the problem they are trying to solve, and then determine what type of investment is appropriate.