COVID-19: Entering uncharted territory for global real estate markets
06-05-2020
Paul Kennedy
Dave Esrig
Luigi Cerreta
Kenneth Tsang
In Brief
In this uncertain, COVID-19-dominated environment, we consider three economic scenarios, along with our understanding of the real estate market's regional and sector dynamics, to provide an informed perspective on real estate trends and potential investment opportunities. These are some of our key expectations:
Accelerated e-commerce trends are likely to hasten the demise of lower quality retail centers and benefit top-tier assets while having a positive impact on the demand for logistics.


Over the short term, the COVID-19 crisis is likely to increase both working from home and space-per-employee requirements within the office sector; longer term, space-per-employee requirements could ease, suggesting lower overall demand. These trends are likely to have a disruptive impact on coworking/flex leasing firms but a more evolutionary impact on traditional offices.


Distressed opportunities are most likely to be found in locations and businesses with the greatest exposure to the impact of the COVID crisis (e.g., Orlando rather than the San Francisco Bay Area) and in highly exposed regional markets with relatively ineffective health and fiscal policies (e.g., the UK rather than Germany, Hong Kong rather than South Korea).


For both core and noncore investors, success will depend on their willingness and ability to seek exposure before there is absolute clarity.
COVID-19's arc of destruction will likely near its apex soon, and we, like other researchers, need to consider recovery paths that depend more on public health than on markets. The gap in potential outcomes, bounded by South Korea's seeming success and Spain's apparent tragedy, is so wide and the possibilities so divergent that we felt compelled to consider three economic scenarios to drive our real estate market projections.

While we are traveling in uncharted territory, we are not without a compass. Combining these alternative macro scenarios with what experience has taught us about global real estate market dynamics, we offer our insights on projected real estate transaction activity and the impact of the COVID-19 lockdown on trends shaping real estate markets. Most importantly, we provide our views on the regions and sectors where we believe the most promising investment opportunities may lie.
Scenario 1: V-shaped correction
Under a V-shaped correction, in which we have an increasingly low conviction, economic effects are limited to one half year of annualized negative GDP growth of approximately -10% to -15%. This implies that fiscal and monetary intervention to date will have been successful and that lost output can be recovered in just a few quarters.
In this scenario, the effects felt by the real estate sector should be minimal, beyond temporary disruptions to net operating income (NOI) and modest price declines. Additionally, a brisk rebound in public equity markets should bring above-target real estate allocations back in line, reducing rebalancing needs.
Scenario 2: Checkmark correction (base case)
This is our highest conviction scenario, under which economic activity initially corrects by roughly -10% to -15% before surging as lockdowns are lifted. However, health concerns lead to a staggered reopening of businesses and economic activity, and lingering effects of the shutdown temper the pace and extend the length of the recovery.
We expect this delayed return to normalcy to have a larger effect on real estate fundamentals, including rent growth expectations and risk spreads, possibly causing pricing to fall by 10% or more during the crisis period, with results varying by market and sector. Once there are clear signs that the crisis is ending, a relatively rapid reversal of price impacts is likely.
Within Europe, the impact of this type of correction on Germany is likely to be small when compared with that on Spain, Italy and the UK. In the U.S., markets with a higher exposure to the finance and TAMI (tech, advertising, media and information) industries, such as New York, Boston, Seattle and the San Francisco Bay Area, should hold up well relative to the rest of the country. Tourism and energy markets, however, such as Orlando, Las Vegas and Houston, are likely to face stiffer headwinds. Within the APAC region, markets with higher volatility, such as Hong Kong and Singapore, may experience a larger average drawdown in capital values across major real estate asset classes relative to other economies within the region.
Across all three regions, implications for logistics and multifamily housing are likely to be more muted, while drawdowns in capital value for retail and hospitality could easily be double the market average.
Scenario 3: L-shaped correction
This scenario, in which we also have low conviction, implies a prolonged crisis, possibly with multiple COVID waves that overwhelm health services as well as fiscal and monetary policies. GDP could contract by more than 10% in 2020, with little improvement in 2021.
In this environment, capital value corrections could match or exceed those of the global financial crisis (GFC) in terms of both depth and duration. Sustained damage to personal, corporate and government balance sheets could severely impact NOI, and peak-to-trough value declines in excess of 30% are possible. Sector and regional differences will likely be directionally similar but more pronounced than in our base-case scenario.
Implications for global real estate markets
Transaction market
Real estate investment activity has been falling as uncertainty prevails. Data from Real Capital Analytics (RCA) show that over the first 110 days of 2020, activity was down 57% in APAC and 8.5% in EMEA (largely driven by Europe), while the Americas (largely driven by the U.S.) saw only a 2.4% decline, vs. the same period in 2019. However, APAC is at least two months ahead of both the U.S. and Europe in its fight against COVID-19. With clear evidence of transaction volumes slowing in both the U.S. and Europe, it would not be surprising if, over the next quarter, both regions followed paths similar to that of APAC (EXHIBIT 1).
It is reasonable to expect Europe and the U.S. to experience a slowdown in real estate transaction volume over the next quarter similar to that already seen in APAC this year
EXHIBIT 1: CUMULATIVE WEEKLY DEAL VOLUME OVER THE FIRST 110 DAYS OF 2018, 2019 AND 2020
EMEA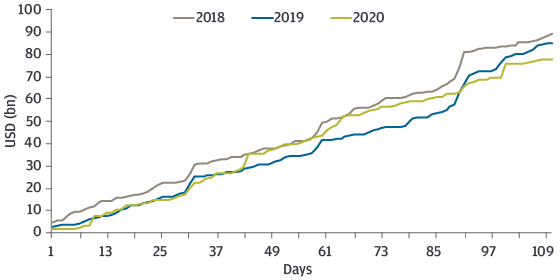 Source: Real Capital Analytics; data as of May 4, 2020.
Americas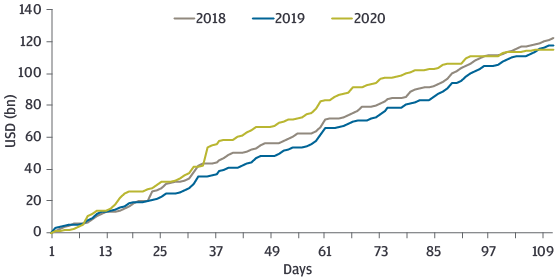 APAC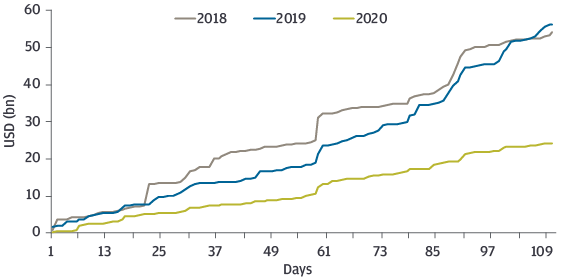 Market trends

Over the last few years, real estate markets have been impacted by two major occupier trends: e-commerce in retail/logistics and coworking/densification in the office sector.
E-commerce has led to a structural shift in the way people shop, with online sales taking share from brick-and-mortar centers. COVID-19 is likely to hasten this trend, as stay-at-home restrictions are forcing online holdouts to buy over the internet for the first time, potentially reshaping their purchasing habits. We expect this uptake in online shopping to lead to an increase in retailer bankruptcies and cause surviving retailers to focus on consolidating in the best locations. In the near term, this shift will likely put downward pressure on all retail properties. However, it should eventually benefit top-tier assets while accelerating the demise of class B and class C retail centers. The accelerated online trend is likely to have a positive impact on demand for logistics—both last-mile assets that handle direct-to-consumer deliveries and larger wholesale distribution centers in lower density areas.
Additionally, the disruption of supply chains heavily reliant on goods manufactured in China could spur some factory capacity to return to the U.S. Higher labor costs in the U.S. and Europe will likely limit this to "critical" goods, but it should nevertheless benefit the sector.
The COVID-19 crisis has led to a mass experiment with working from home, which might have ongoing implications for occupier demand in both traditional offices and coworking environments.
Typically, coworking or flex leasing firms, including WeWork and Regus, pay for long leases with landlords by selling short-term memberships in densely packed offices. We see this business as facing some material challenges. In the near term, members will want more spacing for health reasons, with potentially negative implications for the economics of the business model. Also, in the medium term, rapid improvements in work-from-home technology may encourage small member companies to pay for less space, as they can now share fewer desks at the office.
This may play out differently for the majority of the office market, where users lease directly from landlords. Health concerns will lead to the need for more space per employee here too, but unlike those with flex leasing arrangements, larger firms with traditional long-term rental agreements won't necessarily be able to add or reduce rental space in the short term. As memories of the virus fade, increased working from home, coupled with desk sharing, may lead to less space required per employee for larger firms. Overall, we think COVID-19 will have a disruptive impact on coworking/flex leasing firms but more of an evolutionary impact on the rest of the office market.
Investment strategies
Before COVID-19, the search for yield and return, combined with fading memories of the GFC, persuaded some investors to expand their definition of "core" real estate. The current crisis could lead to a partial or complete reversal of this trend, leading to a renewed focus on "true" core assets with proven investment and occupier market fundamentals.
The substantial exposure of both retail and hospitality businesses to the crisis means that these sectors are the most likely to see distressed opportunities. Some of the more interesting opportunities may come as retail or hotel operators raise capital through sale-leasebacks of their corporate real estate. This could bring both office and industrial assets to market at discounted, but not fire-sale, pricing.
In addition to these potential sources of distressed equity, we also expect a wide range of opportunities in the debt space. Short-term dislocation in credit markets, particularly at higher loan-to-value (LTV) levels, offers an attractive entry point for mezzanine and preferred equity strategies, as terms and pricing are unusually favorable for lenders.
Differences in national health and economic policies should also influence strategies. The success of COVID testing regimes in Germany, South Korea and New Zealand should minimize the depth of downturns in these economies relative to others, limiting opportunities for investors to secure attractive entry points. By extension, investors with higher risk tolerance could focus on markets characterized by relatively ineffective health and fiscal policies. In Europe, we would consider Italy, the UK and Spain as examples. In the U.S., there may be opportunities in highly exposed markets, such as Orlando and Las Vegas, particularly if the crisis drags on longer than expected.
In Asia Pacific, markets with sound structural fundamentals (like Japan's multifamily and office sectors) continue to be attractive. Further, the tailwind of e-commerce growth and industrial modernization will continue to underpin the development of the region's logistics sector, and those markets with dynamic pricing (e.g., Singapore, Hong Kong and Shanghai) may offer attractive entry points.
Our regional Views from Asia Pacific, Europe and the United States recap our pre-crisis regional/sectoral perspectives, what we believe has changed—temporarily or permanently, given the pandemic—and the potential opportunities we are seeing in each region.
PRE-CRISIS VIEWS, WHAT'S CHANGED & POTENTIAL OPPORTUNITIES
Asia Pacific
What was our view precrisis?

Favorable long-term economic and demographic drivers lead to a gradual increase in allocations to APAC real estate.
Real estate yield spread over government bonds remains attractive.
Demographic trends support Japan's multifamily sector.
E-commerce benefits industrial/logistics, particularly in China's primary logistics hubs, Tokyo, Sydney and Auckland.
Ongoing challenges for traditional retail formats.
Cyclical slowdown in office demand across much of APAC. Bright spots include Osaka and Brisbane.
What has changed?
Temporary changes:
Transaction volumes have fallen materially, with some signs of price reductions.
Demand for coworking space has fallen.
Permanent changes:
Accelerated shift to e-commerce/omni-channel retailing, enhancing demand for logistics/cold storage and data centers.
Enhanced focus on employee wellness and working from home.
Increased demand for business continuity space (BCP) in noncore office locations.
What are the opportunities?
Office markets with good fundamentals will likely recover quickly and perform (e.g., Osaka, Melbourne).
Japan's multifamily sector continues to be defensive, with potential opportunities to enter at better pricing; focus on Tokyo, Osaka, Fukuoka and Nagoya.
Robust e-commerce growth and stock modernization should benefit the logistics sector throughout the region.
Data center demand, particularly in Singapore, should continue to support pricing.
Selected debt markets likely to be attractive due to short-term bank caution (e.g., Australia).
Potential opportunities related to stressed balance.
Europe
What was our view precrisis?

Despite limited GDP growth, low office vacancy levels support occupier demand across the region.
E-commerce benefits both industrial and logistics.

Retail remains under pressure, particularly in the UK.

Attractive yield spreads over government bonds support investment demand and broaden focus beyond "traditional" core.

BREXIT clarity leads to renewed interest in UK real estate.

What has changed?
Temporary changes:
Transaction volumes have fallen; early signs of price reductions in the UK, France and southern Europe. A flight to quality leads to a refocus on core.
Demand for coworking falls.
Retail suffers disproportionately from the shutdown while logistics and the grocery sector benefit.
Impact on Germany is limited when compared with France, the UK and southern Europe.

BREXIT timing enhances the impact of COVID-19 on the UK.
Permanent changes:
Accelerated shift to e-commerce should enhance demand for logistics.

Ranks of coworking providers thin, flexible working increases, and aggregate demand for office space falls.
What are the opportunities?
Corporate distress might lead to opportunities for sale-leasebacks and surplus asset purchases.
Debt markets should be attractive due to short-term bank caution.
Opportunities are likely to be greater in France, the UK and southern Europe than in Germany due to differences in distress levels.
Logistics sector likely remains robust; pricing pressure is likely in retail and parts of the office space market. Core offices likely fare better than suburban locations.
BREXIT and COVID-19 suggest an attractive entry point for the UK.
United States
What was our view precrisis?

E-commerce benefits industrial/logistics sectors.
Retail continues to struggle and to focus on services/experiences.
Office urbanization trend continues.
Office tenants favor new product.
Multifamily development is attractive, with demographic trends favoring suburban residential.
West Coast and Sunbelt markets to outperform.

Low yields push investors to higher risk strategies.
What has changed?
Temporary changes:
Transaction volumes have fallen materially.
Office densification has paused; suburban demand has increased.
Demand for non-infill bulk distribution centers boosted.
Pricing adjustments and a flight to quality bring more capital back into the core space.
Luxury multifamily is likely to outperform.
Permanent changes:
Likely accelerated shift to e-commerce and closure of class B and class C retail.
Coworking sector likely to thin as remote working increases.
Renters hasten their transition to suburban multifamily and single-family rentals.
What are the opportunities?
Higher LTV lending and recapitalizations likely to be attractive due to short-term bank caution.
Markets with a high percentage of workers able to work from home expected to have the least disruptions; mass-transit-dependent metros (e.g., New York) may take longer to recover.
Tech markets to continue to see long-term growth:
- Established tech to have fewer issues than start-ups, benefiting Seattle and San Jose over San Francisco.
- Biotech to outperform info-tech, benefiting markets such as Boston, San Diego and South San Francisco.
Sunbelt growth markets remain good long-term bets (e.g., Austin, Nashville and Raleigh).
Washington, D.C., to benefit from a larger government balance sheet.
Summary and conclusions
We expect most of the pandemic's impact on real estate performance will be driven by the duration of regional epidemics. For both core and noncore investors, success will depend on their willingness and ability to seek exposure before there is absolute clarity. Under our base-case "checkmark" scenario, we anticipate near-term opportunities to acquire high quality equity and debt assets at attractive pricing. Opportunities are likely to be greater in markets where the economy is hardest hit by the pandemic's effects (e.g., the UK rather than Germany, Hong Kong rather than South Korea, Orlando rather than the Bay Area). Investors with a higher risk tolerance are likely to follow a similar regional market approach, albeit with more aggressive leverage strategies as well as a willingness to accept more complex equity and debt positions.
0903c02a828d9855