Should investors be worried about Asia's food inflation?
6-minute read
11/04/2022
Adrian Tong
The squeeze in household purchasing power associated with any potential food price spike poses a threat to consumer demand and economic growth.
Marcella Chow
Global Market Strategist
In brief
Supply tightness due to the Russia-Ukraine conflict has led to a spike in the price of agricultural products, particularly for wheat and maize.
Net food- and energy-importing economies with high weights of food and energy within their CPI baskets tend to be more exposed. Varying diet composition is also a key determinant of food inflation.
Corporate margin erosion is a risk but downstream retailers are relatively well-protected compared to mid and upstream suppliers.
The ongoing Russia-Ukraine conflict has resulted in tighter agricultural exports, putting upward pressure on food inflation globally. Russia and Ukraine together take up the largest proportion of global wheat trade (at 28%) while the two countries account for about 18% of global maize (corn) exports. At the time of writing, the price of wheat and maize are up 37% and 26% year-to-date (YTD), respectively, and around 3.6 and 2.8 standard deviations above its 5-year average price, respectively. Agricultural markets are exposed directly to the conflict through potential disruptions in grain trades, along with surges in oil prices that impact transportation costs and biofuel prices. Moreover, weather-related supply-side shock and gyrations in fertilizer prices further exacerbated the surge in food prices as well as food production costs.
We have analyzed earlier the impact of energy price shocks and whether that will create stagflation (Will surging energy prices create stagflation?) but certain Asian economies may be more vulnerable to food inflation as households spend far more of their incomes on food than on energy (Exhibit 1). The squeeze in household purchasing power associated with any potential food price spike poses a threat to consumer demand and economic growth. Hence, net food- and energy-importing economies with high weights of food and energy within their CPI (Consumer Price Index) baskets tend to be more vulnerable. In our view, India, Philippines and Thailand, which are large net energy importers within Asia with high food and energy CPI weights, may be more exposed.
Exhibit 1: Food and energy weights within CPI baskets
Percentage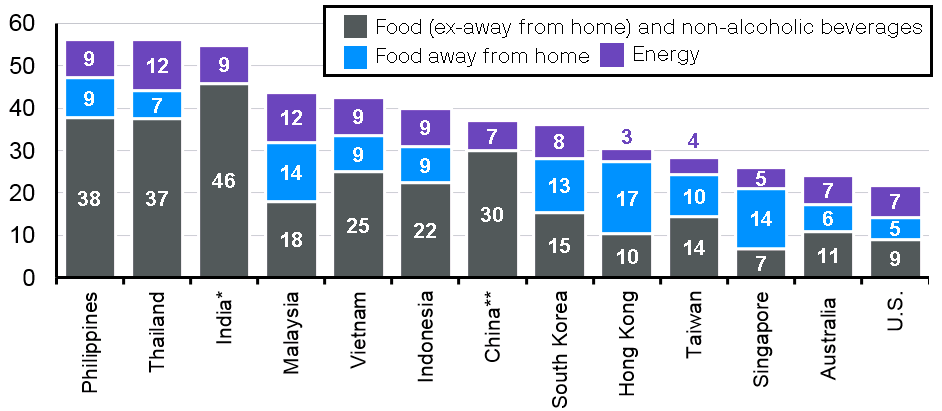 Source: CEIC and J.P. Morgan Asset Management. *India's food away from home CPI is zero. **China NBS does not provide detailed CPI weights.
Data reflects most recently available as of 11/04/2022.


Source: FAO Agricultural Outlook, OECD, World Bank and J.P. Morgan Asset Management.
Data most recently available as of 11/04/22.
The degree of food self-sufficiency (Exhibit 2), which varies significantly across countries, is also a useful gauge of an economies' sensitivity towards changes in global food costs. Within Asia, net food import dependence is high in Philippines, pointing to heavy reliance on imports of major food staples and are higher vulnerability to global prices. China, India and Vietnam's net agriculture trades are closer to balance, indicating some degree of self-sufficiency. Meanwhile, Australia, New Zealand and Thailand are large net agriculture exporters and so should be more insulated from global food shocks. Other than food self-sufficiency, it is also helpful to look at the relationship between fertilizer intensity and import reliance amid high fertilizer prices. If high fertilizer prices lead to lower fertilizer use, this may affect the upcoming crop cycle, harming both crop yields and quality going forward. Moreover, a high reliance on imported fertilizer tends to magnify the sensitivity of local fertilizer prices to global price movements. Within Asia, Thailand is the most reliant on imported fertilizer, followed by Philippines.
Despite the current rise in wheat and maize prices, the relatively stable price of rice (up by 1.8% YTD), the key staple food within Asia, provides some relief. As shown in Exhibit 3, by looking at the per capita consumption patterns of key food commodities, we see that Indonesia, Philippines and Thailand and Vietnam have much stronger preferences for rice over wheat. Furthermore, within Asia, maize tends to be used as animal feeds rather than human consumption. Another interesting observation is that meat accounts for a key part of the diet within wealthier economies such as Australia, New Zealand and South Korea.
Investment implications
For now, Asian food inflation remains relatively benign. China's March food inflation fell 1.5% year-over-year (y/y), helped by a 41.4% y/y decline in pork prices, the major driver of China's CPI inflation movements since 2019, due to increasing supply. Admittedly, food inflation in Thailand (4.6% y/y in March) and Malaysia (3.8% y/y in February) are at eight- and four-year highs, respectively. However, compared to other regions, the pace of food price inflation is not particularly fast. For example, U.S. food inflation came in at 7.9% in February while food inflation in Brazil, Chile and Hungary were all above 8%.
In terms of policy response, as most Asian economies are still experiencing or recovering from COVID-19 shocks, we expect there will be limited monetary policy action unless the rise in food prices pose significant risks to inflation expectations. We believe economies that are more vulnerable to further rate hikes are those with weak external positions and heightened foreign exchange sensitivity such as Sri Lanka and Pakistan.
In our view, fiscal supports in the form of imported tax cuts and food or fertilizer subsidies will be a likely policy option to help cushion households and corporates' income losses.
In terms of impact to corporate earnings, even though margin erosion is likely given increases in food prices, channel checks suggest downstream retailers tend to be more insulated compared to midstream manufacturers and upstream producers. This is because most of the downstream retailers have better distribution networks and stronger bargaining power. This means that they can still protect their margins and may even be able to pass some of rise in input costs to consumers. The strength from the reopening momentum should also be able to support further pricing action. Meanwhile, while households may be exposed to rising food inflation, companies within the commodity sectors will likely benefit as a result of the current commodity boom.
Looking ahead, we shall continue to monitor the (1) duration of the Ukraine-Russia conflict, (2) international fertilizer prices and volumes and (3) trend of rice prices as well as the expected harvests within Asia to further gauge the economic and market implications of food inflation.
0957221204084928