COVID-19 resurgence weighs on Chinese economy and market
4-minute read
15/03/2022
Chaoping Zhu
Marcella Chow
Amid the resurgence, the probability is rising for China to escalate stimulus policies, while taking a more pro-growth stance in industrial policies.
Chaoping Zhu
Global Market Strategist
In brief
A new wave of COVID-19 outbreak hits China, and stringent measures are introduced in Shanghai, Shenzhen and a number of provinces.
Consumption and service sectors could see the biggest impact, while manufacturing sectors and supply chains may remain resilient.
Further stimulus measures are needed to reach the 5.5% growth target, which may lend some support to certain sectors in the stock market.
China is facing a new wave of COVID-19 outbreak. On March 13, 1,337 new infection cases and 788 asymptomatic cases were confirmed among the local population, pushing the month-to-date number to 5,594 and 5,504, respectively. The recent infections were dominated by the Omicron variant, which is more infectious and harder to contain. This led to fast and widespread transmission within mainland China, with 26 out of 31 provinces reporting new cases in the past two weeks.
To contain the transmission, regional governments stepped up stringent measures. Shanghai and Shenzhen used to take "precise" and targeted measures in contact tracing, building lockdowns and testing in order to limit the economic impact. As the infection cases have been rising quickly, Shenzhen is suspending most economic activities for one week and testing the entire local population. Shanghai also closed all schools and started testing for most residents. In other provinces, lockdown and testing measures have also been escalated.
The control measures have created downside risks, particularly to the consumption and services sectors. Shanghai and Shenzhen contributed 6.3% of Chinese consumption. Taking Xi'an City, which experienced a full lockdown in December 2021, as reference, current lockdowns may lead to a 30% decline in local consumption in Shanghai and Shenzhen and drag nationwide consumption growth by 2.5 percentage points. With control measures implemented in some other regions, we may see a 5 to 10% year-over-year decline for consumption in March.
Shocks to manufacturing and export activities may be more moderate in our view. In Shanghai, since there were only a few infection cases in factories, less stringent measures were adopted to the manufacturing sectors. Meanwhile, the Shanghai Containerized Freight Index has been declining since the beginning of this year, thereby pointing to stable logistics condition for industrial products exports. On such basis, supply chains around Shanghai may remain resilient during the lockdowns.
On the other hand, some large electronics manufacturers in Shenzhen suspended operations. If the suspension only lasts for one week as planned, the drag to nationwide industrial production growth may be around 0.5 percentage point in March, but this could be offset by some catch up after reopening.
Exhibit 1: CSI 300 intra-year declines vs. calendar year returns
Local currency, average intra-year drops of 24.3% (median -22.1%) and annual returns (average: 19.6%) positive in 9 of 18 years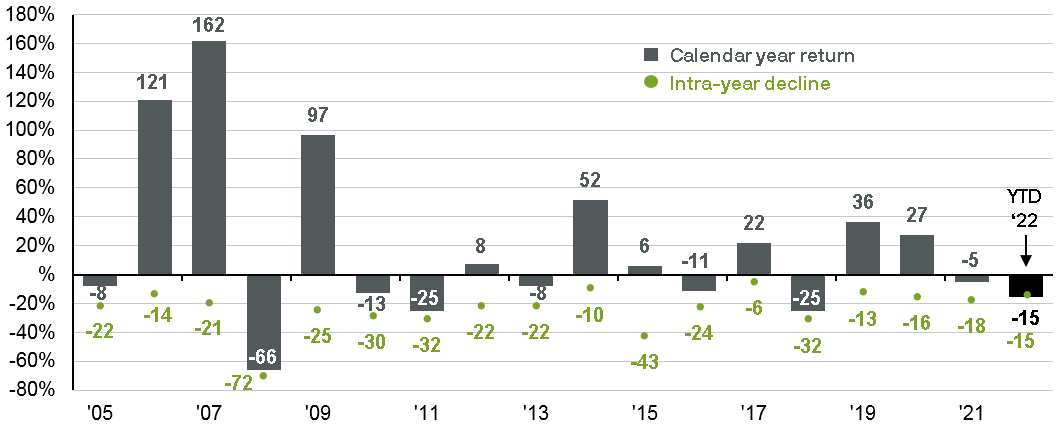 Source: FactSet, J.P. Morgan Asset Management.
Returns are price returns based on CSI 300 Index in local currency terms. Intra-year drops refers to the largest market drops from a peak to a trough during the year. For illustrative purposes only.
Guide to China. Data are as of 15/03/22.
The latest outbreak alerted the Chinese government on the contagiousness of Omicron and the difficulty to contain it. During a central government meeting held in March, it was reiterated that the "dynamic clearing" strategy should remain in place. This suggests that the stringent measures will still be the core strategy. Meanwhile, some measures were also taken to prepare for reopening and "live with COVID-19". In February, emergency approval was granted to Paxlovid, the treatment developed by Pfizer. On March 11, COVID-19 antigen self-test kits were allowed for rapid testing by the general public. However, it may still take some time before sufficient medical resources are prepared, and the 20th Party Congress in October should also be a critical consideration before a major strategy change.
The shocks in March and the sustained stringency may pose challenges for China to reach the 5.5% annual growth target. In addition, the weak credit growth in February also points to weakness in domestic confidence. Therefore, stronger stimulus measures would be needed to achieve this target. On the basis of strong fiscal revenue in 2021, Chinese government still has some room to mobilize resources for infrastructure investment. The strong exchange rate of CNY may also provide some leeway for further monetary easing. Besides these traditional measures, it is also critical to restore confidence among consumers and private enterprises.
Investment implications
Year-to-date, both onshore and offshore China stocks have been under pressure amid geopolitical uncertainties and ongoing regulatory reforms regarding internet platforms. The COVID-19 resurgence and lockdowns further weighed on investor sentiment and led to the sell-off on March 14.
Amid the resurgence, the probability is rising for China to escalate stimulus policies, while taking a more pro-growth stance in industrial policies. This would be an important catalyst for markets to recover.
Historically, Chinese equities have rebounded fast and strong after an over-30% correction like last year, up 25% 26 months after a trough (on average from 2011-2021), especially as these corrections are usually associated with policy cycles (versus economic cycles in other economies).
Hence, our long term positive stance on Chinese equities remains unchanged. Catalysts are needed to facilitate recovery. These include more aggressive monetary and fiscal policy stimulus to support the economy to offset higher commodity prices and the impact from the latest outbreak. We would also see a prompt containment in this round of infection to limit the downside to consumption. Renewable energy and clearer industrial policies to support the development of technology to reduce import dependence should help to focus investors' minds on future growth sectors in the economy.
09nt221503103809