It is one of the largest equity markets in the world, and we believe there are fundamental reasons for investors to take a closer look at Japan's opportunities.
Tai Hui
Global Market Strategist
For 2021, we have advocated Asian investors to be internationally diversified when it comes to equity allocation. Most investors would have positioned themselves in the U.S., China and/or broader Asia. There has even been more interest on Europe. What about Japan? It is one of the largest equity markets in the world, and we believe there are fundamental reasons for investors to take a closer look at Japan's opportunities.
MSCI Japan in USD terms is only up 0.1% year-to-date. Yet, this is largely due to a weaker Japanese yen (JPY) against the U.S. dollar, as the index in local currency terms was up 10%. This reflects that currency risk management is critical for foreign investors.
In terms of economic fundamentals, Japan was hurt by the pandemic for much of 2021. While the vaccination process was slow at the beginning, 77% of the eligible population are now fully vaccinated. Since then, the pandemic has come under control and Japan is allowing the domestic economy to reopen. Japan's service Purchasing Manager Index hit 53.0 in November, the highest in 27 months. While the Omicron variant is an uncertain factor, the government was quick to limit foreign travelers' entry into the country.
The government has also approved a supplementary budget of 5.8% of GDP for Fiscal Year 2021. J.P. Morgan Economic Research estimates that about one-third of this proposed additional budget would directly support economic growth in 2022, including cash payouts to small and medium enterprises, and families with children. Another one-third is fiscal transfer amongst government departments to cover financial losses in 2021. The final one-third is for public works and research that will take several years to execute.
Earnings per share growth for 2021 was estimated at 35%, which is slower than the U.S. or Europe. However, the market consensus for 2022, at 7.9%, is broadly in line with the U.S. and Europe. Moreover, while many investors are concerned about rich equity valuation in the U.S., MSCI Japan's price-to-earnings ratio at 14.5 times is not only significantly cheaper than the S&P 500 or MSCI Europe, it is also below its own 15-year average of 16.3 times. This provides more margin of error in case there are some bumps on the road to recovery.
EXHIBIT 1: GLOBAL MANUFACTURING PMI AND JAPAN TRAILING EARNINGS PER SHARE GROWTH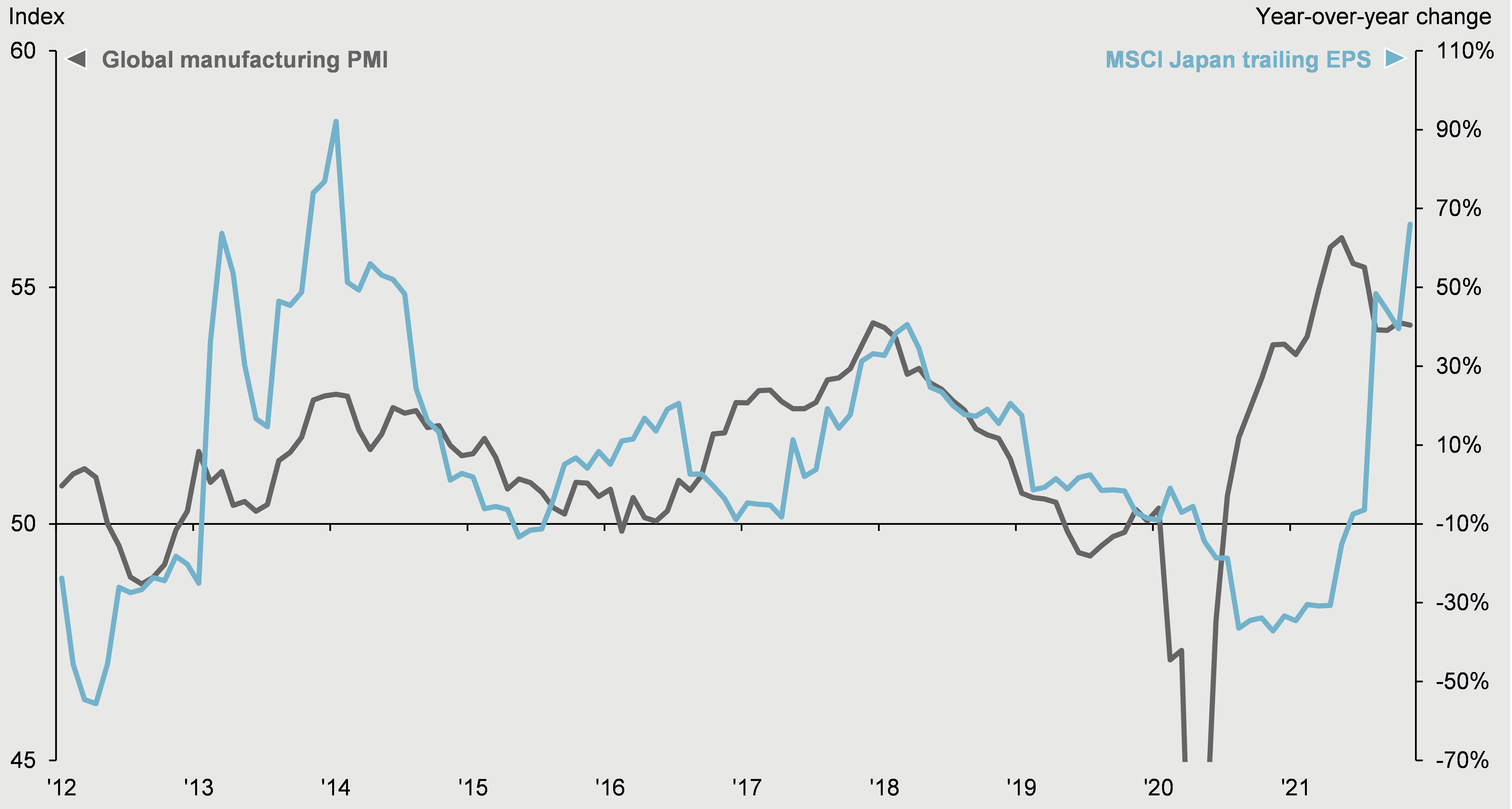 Source: Bloomberg Finance L.P., J.P. Morgan Asset Management.
Guide to the Markets – Asia. Data reflect most recently available as of 06/12/21.
For Japanese corporate earnings, the global economic and capex cycle also plays an important role. The chart above shows that earnings per share (EPS) growth has a strong correlation with the Global Manufacturing Purchasing Manager Index. Even if global manufacturing PMI probably has peaked, Japanese corporate earnings should continue to expand, and this will help support a case for Japanese equities as a destination of international diversification.
Investment implications
In addition to the global economic recovery supporting corporate earnings growth, it is worth noting that Japanese corporate governance has improved since the start of Abenomics in 2012. Dividend payment and buybacks have risen steadily in the past decade. Company boards are also including more independent directors to monitor executives. This is important when investors assess the quality of companies via the environmental, social and governance (ESG) framework.
While much of the discussion above has been focusing on the broad Japanese market, we need to emphasize the importance of active management. Japan's manufacturing and financial industries have gone through significant changes in the past two to three decades and some areas still need transformation. Yet, there are still plenty of world leaders in technology, either servicing the domestic economy or the global markets, that investors can choose from. This includes areas such as electronic payments and e-commerce, cloud technology serving businesses and online marketing. The modest medium term economic growth prospects need not be a constraint to these companies that can tap a growing trend.
098m210712030642