In Brief:
China's fixed income universe is composed of three distinct markets: CNY-denominated onshore market, CNH-denominated offshore market and the foreign currency-denominated market (mostly in U.S. dollar). Of these markets, the onshore RMB market is by far the largest, and the recipient of the most attention lately.
China is a relatively high debt nation, but compared to other markets, little of this debt is listed as a security on a bond market. Drawing the distinction between debt and bonds is essential to understanding Chinese fixed income.
The largest borrower overall in China is non-financial corporations, but the largest issuer in the bond market is the government, which alters the overall risk perception and expected return characteristics of the market. The government segments of the market are further divided into three types of bonds: central government, local government and policy bank bonds.
Bond market basics:
There are three distinct bond markets within the Chinese fixed income universe (Exhibit 1). Onshore bonds are securities listed on a Mainland Chinese exchange and priced in onshore Chinese RMB (CNY). This is the largest market by value at around USD 13.4trillion.


Foreign currency bonds are bonds where Chinese companies have also utilized the U.S. dollar, Hong Kong dollar and euro bond markets for their funding needs. This market, though small compared to the CNY market (valued at USD 126billion), cannot be ignored, especially for Asia high yield corporate debt investors.


Offshore bonds are bonds that are primarily traded in Hong Kong and denominated in offshore Chinese RMB (CNH). These are commonly called "dim sum" bonds, and they represent a USD 52billion market.
China's fixed income universe has distinct markets within it
EXHIBIT 1: CHINA'S THREE DIFFERENT MARKETS
Key statistics about the Chinese fixed income markets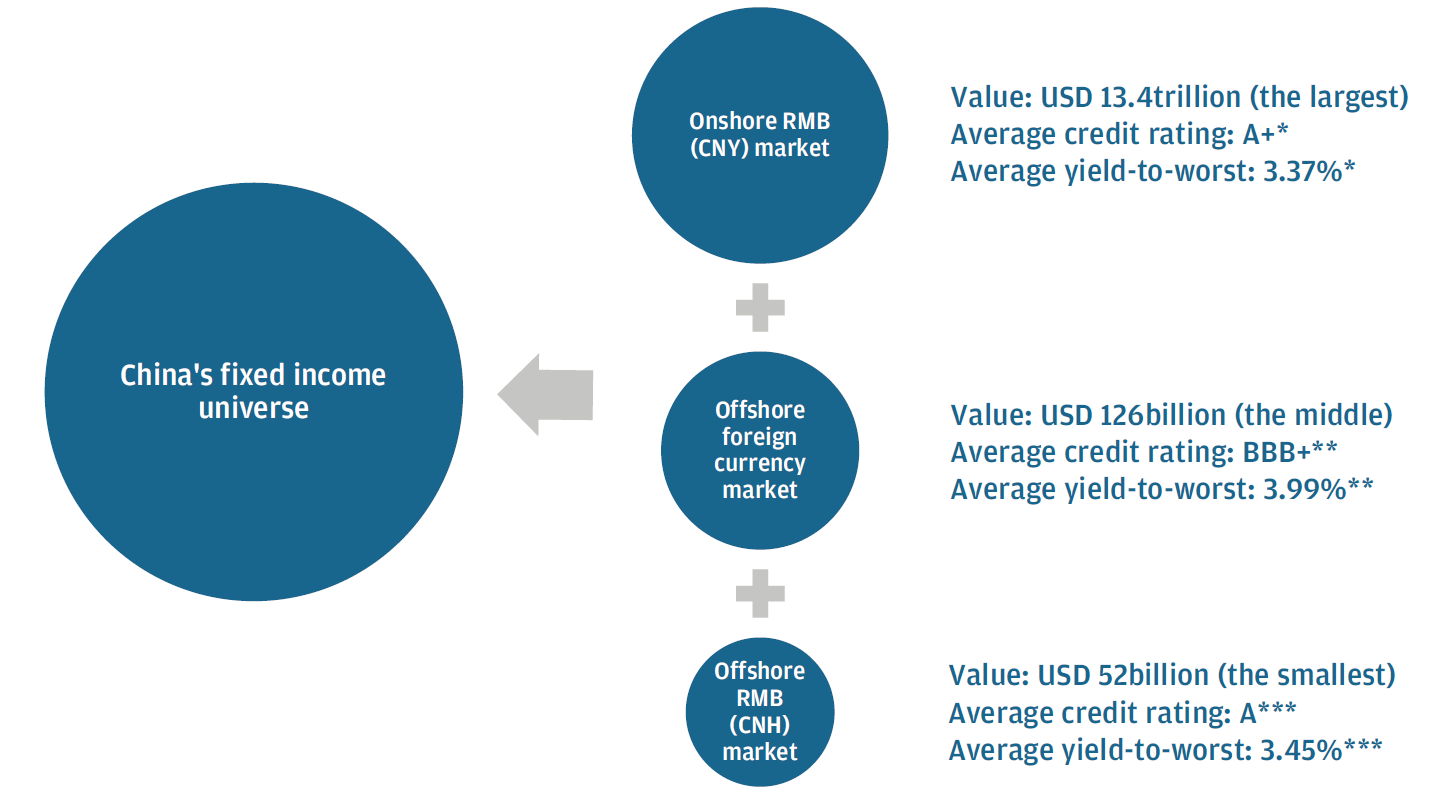 Source: Bloomberg Finance L.P., FTSE Russell, WIND, J.P. Morgan Asset Management. Data are as of October 31, 2019.
*FTSE Chinese (Onshore CNY) Broad Bond Index is used as a proxy for China onshore universe statistics.
**J.P. Morgan Asia Credit Index (JACI) is used as a proxy for Chinese foreign currency-issued bond universe statistics.
***FTSE Dim Sum Bond Index is used as a proxy for China offshore universe statistics.
These three markets should be considered independently due to the differences between the investor base and market dynamics in each. (Further discussion will be included in the upcoming Paper #3 Characteristics of Chinese bonds.)
The Chinese government had only issued bonds onshore until July 2019, when it conducted its first issuance of CNH government bonds in Macau. However, government-linked entities like state-owned enterprises and some local government-linked property development corporations have been aggressive users of the offshore financing channel.
Before discussing investment strategies or the appropriate place for Chinese bonds from any one of these three markets in a portfolio, it is essential to understand the structure of the Chinese bond market and the nuances of accessing each of these three segments.
Debt versus bonds: Not the same thing!
While China's high ratio of debt to gross domestic product (GDP) presents a concern around financial stability, the majority of this debt is created through bank loans, either through standard loans or the more headline-grabbing shadow banking products, on the balance sheets of financial institutions.
The part of China's debt pile listed as a security on a public market—debt in the form of a bond where the borrower is a company or government and the lender is an investor, rather than in a loan from a financial institution—is much smaller than the headline debt-to-GDP number would suggest.
These three markets, onshore, offshore and foreign currency bonds, collectively represent around 100% of GDP versus overall Chinese debt, which totals around 259% of GDP (see Exhibit 2). To put these numbers in context, China's overall debt level is comparable to the U.S. (249% of GDP), but bond market penetration lags the U.S. In the U.S., the bond market represents around 134% of GDP.
Investors should be aware of this disparity between debt and bonds when considering investing in Chinese fixed income.
A country's total borrowing can look very different than its bond market
EXHIBIT 2: DEBT AND BONDS AS A % OF GDP
Total market value of debt and bonds, nominal 2018 GDP

Source: BIS, Bloomberg Finance L.P., IMF, J.P. Morgan Asset Management. Debt valuation is as of 1Q19, bond valuation is as of October 31, 2019.
*The difference in Japan's government borrowing in debt and in bonds is due to the differing valuation dates.
**Government bonds include onshore-listed central and local government bonds for all countries.
***Corporate debt is borrowing by non-financial corporations; Corporate bonds are all onshore-listed corporate bonds.
****Household borrowing is only accounted for in total debt as individuals do not issue bonds. Data are as of October 31, 2019.
Who lists and who owns:
The vast majority of borrowing in China is done by non-financial corporations. Their borrowing totals USD 2trillion, or 155% of GDP, across all instruments. Yet when it comes to the bond market, non-financial corporations are only the largest borrowers in the foreign currency and offshore markets.
Onshore, their borrowing is dwarfed by the Chinese government (Exhibit 3). The Chinese government makes up over half the value borrowed through tradeable instruments in the CNY bond market.
The government is the largest issuer onshore
EXHIBIT 3: CHINA'S ONSHORE BOND MARKET OUTSTANDING BY ISSUER SECTOR
USD billions

Source: Bloomberg Finance L.P., J.P. Morgan Asset Management. Bond market outstanding refers to the total U.S. dollar value of bonds in the market and does not reflect mandatory prepayment. *Other includes: Communications, Consumer Discretionary, Consumer Staples, Energy, Health Care, Materials, Technology, Utilities. Data are as of October 31, 2019.
Due to the complexity of regulations around which parts of the government can issue debt, the central government's heavy reliance on policy banks to promote growth and the responsibility of local (provincial and city level) governments to largely fund projects in their area despite lacking a robust local revenue base, this government share of the onshore bond market should really be thought of as three different types of bonds:
Central government bonds, which represent 30% of government debt currently on the market;
Local government bonds, 40% of outstanding government bonds;
Policy bank bonds, the remaining 30% of government bonds.
How to access Chinese bonds:
Offshore listings are accessible either through an offshore clearing center, such as Hong Kong, or as part of the majority of emerging market (EM) corporate bond indices. In the J.P. Morgan Asia Credit Index, for example, Chinese issuers make up around 51% of the index.1 This is why investors in EM corporate debt markets, particularly Asia high yield, cannot ignore the offshore segment of the Chinese bond market.
Direct investment in the onshore market is possible through institutional investor programs or via the Bond Connect Scheme, both of which offer access to any bonds listed onshore.
Those following global benchmark inclusions should note that only central government and policy bank bonds have been included so far in the benchmark Bloomberg Barclays Global Aggregate Bond Index. Central government bonds will be eligible in 2020 for inclusion in the J.P. Morgan Global Bond Index—Emerging Markets, and the FTSE-Russell index provider is reportedly considering inclusion as well. Local governments will not see their bonds in global benchmarks for the time being.
International investor interest in the onshore Chinese fixed income market has been rising as access has widened in recent years. This interest, however, has not been accompanied by a great deal of capital. We believe this is changing.
Widening access for international investors, as well as the effects of benchmark inclusion (details will be covered in the upcoming Paper #4 Chinese bonds go global), has drawn increasing investor attention. The relative stability of Chinese yields and the low correlation of Chinese bonds to other fixed income markets has also drawn interest.
Currently, foreign investors own around 2% of the onshore fixed income market.2 This is markedly lower than neighboring EM Asia peers, like Korea at 6%, and lags offshore Chinese markets.3 This low foreign ownership leaves most bonds in the hands of large institutions in China. The retail fixed income market is essentially non-existent outside of money market funds—the assets under management of retail-investor-geared products make up only about 3% of the onshore Chinese fixed income market.4
Foreign investors' share will naturally rise as access widens and benchmark inclusion of these bonds drives flows. For investors tracking fixed income benchmarks, China could come to represent 6% of the Bloomberg Barclays Global Aggregate Bond Index and 10% of the JPM GBI-EM by the end of 2020.
Government and government-linked bonds
China's status as a quasi-command economy makes differentiating between government and private debt more difficult compared to other markets. Despite its large share of the onshore-listed bond market, Chinese government debt to GDP is low by developed and emerging market standards. It currently stands at 48.3% (Exhibit 2). Of course, China's government is actually more indebted when debt contracted by local governments and state owned enterprises (SOEs) is accounted for properly. The 48.3% figure includes central and local government bonds and borrowing via banks. However, much of the borrowing by local government happens through local government financing vehicles, which are separate entities from the government and their borrowing is surely undercounted.
As we can assume the government would not allow a local government or SOE to fully default on its debts in the near term, this debt should be viewed as part of government debt when assessing risk. After taking borrowing by these entities into consideration, China's debt-to-GDP ratio moves closer to the level of other large countries.
Ongoing efforts to clean up the financial system mean that over time, the debt of SOEs and local government financing vehicles (LGFV) should be securitized into bonds and listed, moving the liability off the central government. However, this is likely a decade-long process; for the time being, investors should consider these debts quasi-government.
China's fixed income universe:
In short, China's fixed income universe is a multi-faceted one made up of three different markets with dramatically different characteristics. In addition to considering the relative benefits and drawbacks of the onshore, offshore and foreign currency markets, investors need to keep in mind the variety of classifications across sectors and what may or may not be listed in any individual market.
The onshore market is by far the largest and, combined with recent accessibility gains for international investors, is drawing the most attention. As such, we will focus primarily on this segment of the Chinese bond market in the following papers.
1J.P. Morgan Economics Research. October 31, 2019.
2People's Bank of China. May 31, 2019.
3Korea Financial Supervisory Service, Korea Exchange. December 31, 2018.
4Morningstar. June 30, 2019. WIND. May 31, 2019.
Opinions, estimates, forecasts, projections and statements of financial market trends are based on market conditions at the date of the publication, constitute our judgment and are subject to change without notice. There can be no guarantee they will be met.