Global Asset Allocation Views 3Q 2022
Insights and implications from the Multi-Asset Solutions Strategy Summit
30-06-2022
Jeff Geller
Gary Herbert
Jed Laskowitz
Yaz Romahi
Katy Thorneycroft
In Brief

A prolonged period of subtrend growth lies ahead as central banks tighten policy to bring inflation under control. While we expect to narrowly avoid a global recession we see downside to both margins and earnings.
Underlying inflation is likely to decline slowly at first, but more rapidly as tighter financial conditions increasingly weigh on aggregate demand. Central banks are unlikely to provide any relief from hawkish rhetoric until several months after inflation prints themselves start to cool.
Slowing growth and tight policy prompt us to downgrade equities, with underweights spread across developed regions. The U.S. is more at risk given elevated margins and valuations, while China is beginning to recover, albeit from a low base.
We prefer credit to equity but favor investment grade and bring duration from underweight to neutral as growth fears start to bite. We move cash to overweight to have ability to lean into assets that become dislocated as markets adjust to the weaker outlook over 2H22.
In the first half of 2022, the optimism of the post-pandemic recovery finally met the harsh reality of lingering inflation and tightening monetary policy. Investors and central banks alike underestimated the stickiness of inflation. But as the sharp policy pivots and heavy selling of stocks through 1H22 suggest, the risks from elevated inflation and slower growth are now widely acknowledged. Our recent quarterly Strategy Summit was the most pessimistic since the depths of the pandemic, and although stocks are already in bear market territory, in our view the sell-off is not over.
Through 2022 and into 2023, we anticipate an extended period of subtrend growth. Although the global economy may barely avoid a recession, asset markets will remain under pressure as growth slows and policy tightens. Tight labor markets and excessive aggregate demand will require policymakers to slow down growth. Our portfolios are positioned for subtrend growth and a decline in earnings expectations, with little, if any, let up in policy tightening for the next few quarters at least.
Pressure on growth is now coming mostly from slowing goods and inventories, but we expect that in 2H22 services and labor will also start to cool. For the time being, solid household, corporate and financial sector balance sheets are mitigating the slump in confidence. While this provides some positive relief, should households begin to retrench in the face of rising food and energy costs there would be an inevitable drag on consumption.
Inflation itself has proven far more persistent than expected. We think inflation will remain well above the Federal Reserve's (Fed's) 2% target throughout 2023, declining only modestly in 2H22 before progressively tighter policy starts to have an impact. While inflation is particularly acute in the U.S., the greatest squeeze in real incomes is likely to be in Europe and the UK, where energy inflation is particularly severe. By contrast, the economic drag resulting from COVID-19 related shutdowns means that China doesn't have a prevailing inflation issue, leaving Chinese policymakers uniquely able to remain dovish.
So far this year, U.S. financial conditions have tightened by almost 300 basis points (bps),1 but much of this reflects wider credit and mortgage spreads as well as lower equities. Any letup in Fed rhetoric that causes spreads to decline risks undoing much of the tightening already achieved, compelling the Fed to raise rates further still. We expect rapid policy tightening by the European Central Bank (ECB) in the autumn but note that ongoing commitment to financial stability in the European periphery limits how truly hawkish the ECB can be.
Subtrend global growth and tighter monetary policy create a challenging outlook for asset markets in 2H22. There is modest variation by region — U.S. data are currently not as good as hoped, Europe is better than feared but still weak, and China is seeing an anemic rebound — and this may create some modest divergence in assets by region. However, slowing aggregate growth is set to drive down margins and earnings globally. Given these challenges, we downgrade equities to underweight and credit to neutral, move to an overweight in cash and close our underweight to duration.
Multiple contraction largely explains the decline in stocks so far this year, while earnings expectations have barely started to fall: S&P 500 forward P/E multiples declined by 6 points, from 22x to 16x, over 1H22 while consensus bottom-up 2022 earnings growth of 11% is little changed from where it began the year. With limited scope for valuations to rebound against a backdrop of higher real rates, the fall in margins and earnings forecasts that we expect to gather pace in 2H22 will weigh directly on equity prices. Regionally, the outlook for stocks is probably worse where earnings and margins expectations are most extended, and where commitment to policy tightening is the greatest. At the margin, this suggests particular vulnerability for U.S. equities, while Chinese stocks may display more resilience than is typical in a weakening global economy.
In fixed income, we upgrade duration to neutral and have a modest preference for U.S. Treasuries compared with other developed market sovereign bonds. We expect investors' concerns to shift from inflation to growth in 2H22, which in turn implies more two-way risk to yields. However, until we see more evidence that inflation has peaked, a sustained rally in bonds seems unlikely.
In downgrading credit to neutral, we express a clear preference for investment grade (IG) over high yield (HY). Credit has proven relatively resilient compared with equities so far in 2022, with corporate balance sheets in better shape than is typical at this point in the cycle. However, as growth cools, credit spreads are likely to widen, and the beta of HY credit to stocks is likely to be elevated. Even if credit is ultimately money-good, the potential for spreads to widen as growth cools leads us to a cautious stance.
Overall, we are leaning short risk in our portfolios and expect further volatility in the near term. In our view, risk assets have yet to fully reflect slowing growth. Cuts to earnings forecasts in the low double digits and further defensive rotation within indices could signal full capitulation. It is reasonable to expect stocks and credit to overshoot to the downside as this occurs, and for dislocations to appear in markets. An overweight cash position gives us the opportunity to take advantage of any such dislocations and distress in asset markets.
Multi-Asset Solutions Key Insights & "Big Ideas"
The Key Insights and "Big Ideas" are discussed in depth at our Strategy Summit and collectively reflect the core views of the portfolio managers and research teams within Multi-Asset Solutions. They represent the common perspectives we come back to and regularly retest in all our asset allocation discussions. We use these "Big Ideas" as a way of sense-checking our portfolio tilts and ensuring they are reflected in all of our portfolios.

Active allocation views
These asset class views apply to a 12- to 18-month horizon. Up/down arrows indicate a positive (▲) or negative (▼) change in view since the prior quarterly Strategy Summit. These views should not be construed as a recommended portfolio. This summary of our individual asset class views indicates strength of conviction and relative preferences across a broad-based range of assets but is independent of portfolio construction considerations.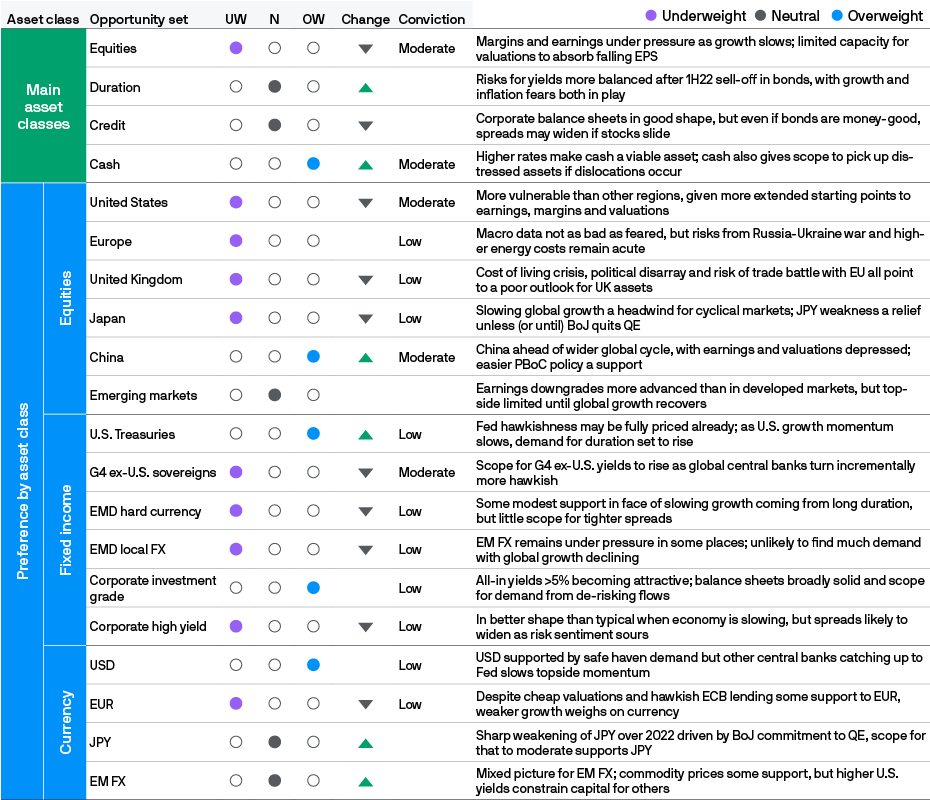 Source: J.P. Morgan Asset Management Multi-Asset Solutions; assessments are made using data and information up to June 2022. For illustrative purposes only. Diversification does not guarantee investment returns and does not eliminate the risk of loss. Diversification among investment options and asset classes may help to reduce overall volatility.
1 Based on data from Morgan Stanley, data as of June 28, 2022.
Multi-Asset Solutions
J.P. Morgan Multi-Asset Solutions manages over USD 283 billion in assets and draws upon the unparalleled breadth and depth of expertise and investment capabilities of the organization. Our asset allocation research and insights are the foundation of our investment process, which is supported by a global research team of 20-plus dedicated research professionals with decades of combined experience in a diverse range of disciplines.
Multi-Asset Solutions' asset allocation views are the product of a rigorous and disciplined process that integrates:
Qualitative insights that encompass macro-thematic insights, business-cycle views and systematic and irregular market opportunities
Quantitative analysis that considers market inefficiencies, intra- and cross-asset class models, relative value and market directional strategies
Strategy Summits and ongoing dialogue in which research and investor teams debate, challenge and develop the firm's asset allocation views
As of March 31, 2022.
---